As the database behavior can be differently configured for each user, a user must first be selected, User1 in the example below.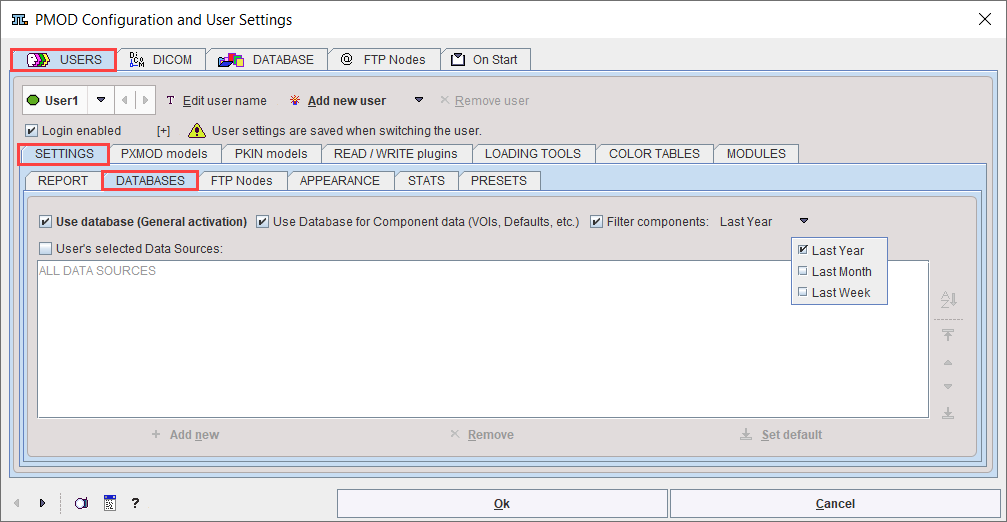 The configuration items are then available on the DATABASE sub-tab of the SETTINGS pane:
▪Use Database (General activation): This is the main switch. If the box is not checked, all databases are invisible for this particular user and all data loading/saving is file-based.
▪Use Database for Component data (VOIs, Defaults, etc.): Sometimes it is preferable to use the database only for the image data. In this case, the check can be removed from this box. Using the full database capability has the advantage that TACs and VOIs etc. are related to the image series they are derived from.
▪Filter components: For large databases, the listing of VOIs and other components can slow done. In order to speed the listing operation up and only show recent data, a default date filter (Last Year, Last Month, Last week) can be enabled.
▪User's selected Data Sources: If there is a substantial number of different databases and a user requires only a few he can check this box, and then add the relevant ones with the Add new button. An additional advantage is that the user can sort the database list according to his preference.