The tool allows removing the table from the CT images and organ cropping.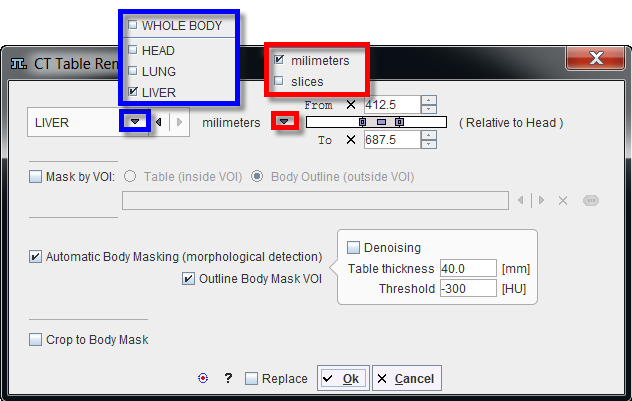 The tool requires as input a CT whole body image HSF oriented. The algorithm is applied to the WHOLE BODY or to the selected body part: HEAD, LUNG or LIVER. The cropping box for the selected organ is automatically defined Relative to Head based on the millimeters or the slices values available in the From and To fields. The values can be entered numerically, or the handles can be dragged with the mouse.
The Mask by VOI option allows masking the image with the specified VOI. There are two options available:
▪Table (inside VOI): allows removing the table form the CT study by replacing the voxels inside the VOI with the minimum value.
▪Body Outline (outside VOI): allows cropping the organ of interest if the Crop to VOI checkbox is enabled. It replaces the voxels outside the selected VOI by the minimum value.
The Automatic Body Masking (morphological operation) is using the Table thickness and the Threshold parameters for the automatic algorithm. Optionally, the Denoising can be applied. The result of the morphological operation is used to Outline Body Mask VOI. In addition, the Crop to Body Mask can be enabled.
It is recommended to use the default settings and only experiment with other parameter values if the procedure fails. The default settings are available by activating the default settings button

.