Access to component data in the database is only available, if the database configuration has been set to Use Database for Component data.
The dialog window shown is somewhat different to the dialog window when loading images. The example below shows the dialog which appears after loading images of a patient PKIN1 into the PVIEW tool and activating the Load button on the VOI tab.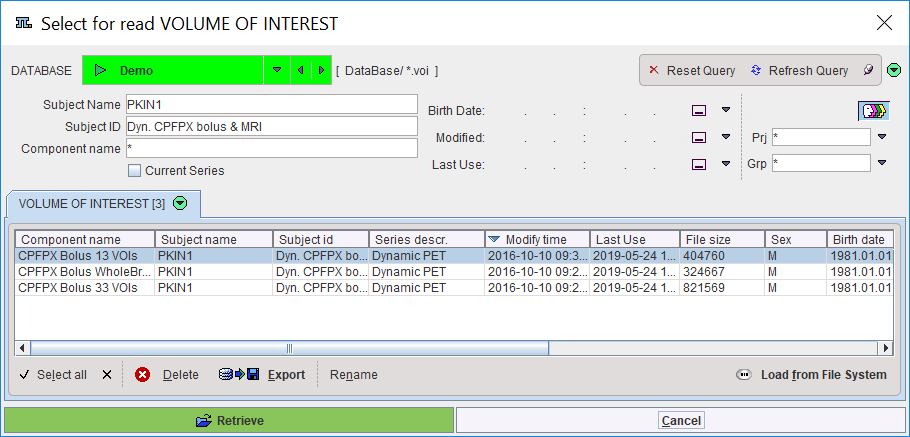 First, the database containing the data, here Demo, must be selected. In the filter section similar options are available as described for image data loading. The Subject Name and Subject ID fields are normally filled in by the information of the image data which has already been loaded. The component section lists all data of proper type and matching the selection criteria.
The example patient PKIN1 has three VOIs in the database. When a component in the list is selected, a row of action buttons below the list area becomes active.
Select all

Selects all components of the list (also CTRL+A).

Delete

Attention: Deletes the component data from the database and the disk!

Export

Exports the selected component data out of the database into a disk file. Multiple selections are supported. A dialog

appears, and after the Save button has been activated the user is requested to specify the destination directory for the data export.

Rename

For changing the component name.

Retrieve

Starts loading the selected component.

Cancel

Closes dialog without loading.
The Load from File System button changes to file-based loading directly from the disk.